Mr. Mujib Rahiman, K U - Librarian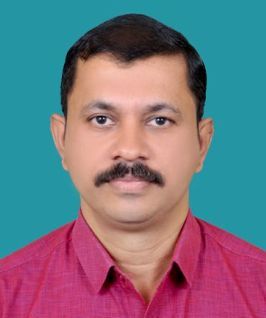 Mr. Mujib Rahiman K.U joined Kendriya Vidyalaya Sangathan in 2003 as a Librarian at KV ITBP Shivpuri. Presently he is working at Kendriya Vidyalayala Kanjikode, Palakkad. Mr. Mujib is a Post Graduate in Library Science, Post Graduate in Information Technology and has qualified UGC-NET.
He has brought about a welcome change in the Reading Habits of children through the various innovative practices adopted by him. The incentives that he gives in the form of books and the transparent Library Point System have made the children more attracted towards the Library.
He has automated the library services using the software developed by himself, which is also made available free online and is being used by many school libraries in India. He has designed and hosted a full-fledged library website for the school library and has also designed and hosted the websites of Kendriya Vidyalayas. He has been the web administrator of the Vidyalaya, ever since he took over as the Librarian. He has also designed and hosted platforms for online homework, online quiz, and has launched the KVS Digital Repository. He has launched a number of blogs for providing online services and provides consultation to various libraries in website designing, library automation and digitization.
An expert in the application of ICT in education in general and libraries in particular, he has been the Master Trainer for Orcale ThinkQuest and Alice 3D Programming in KVS and has conducted many workshops on ThinkQuest and Alice. He has created blogs for Oracle Alice Training Programme. He has also attended training programmes in AutoDesk and Adobe Learning Suite as a Master trainer and for the implementation of e-content development and e-classrooms
An excellent trainer, he is the most sought- after resource person for In-service Training Programme for Librarians and has organized 9 In-service Training Courses at the KVS Zonal Institutes at Mysore, Gwalior and Chandigarh. He has also served as an IT Expert for various In-service Courses and Workshops for teachers in the KVS Ernakulam Region. He has served as the Technical Expert for Project Based Learning in KVS Ernakulam Region.
Many students have won International and National Level Competitions under his guidance and mentoring, which include International ThinkQuest Narrative Competition, KVS Social Science and Science Exhibition Quiz Competitions, National Science Congress, Green Olympiad, Technothlon by IIT Guwahati, The Hindu in School Classroom of the Year Contest and many Regional and District Level Competitions.
Kendriya Vidyalaya Kanjikode Library has been one among the eight libraries shortlisted at national level for the LibTech Award 2019 for Best Integration of Technology. Mr. Mujib has also received KVS National Innovation and Experimentation Award 2019 for the innovative practices he has implemented in the Vidyalaya. Mr. Mujib is also a recipient of KVS Regional Incentive Award, 2015.