HOW TO ISSUE BOOKS FROM THE LIBRARY DURING LOCK-DOWN
The library has resumed issuing books to the students. You can avail of the facility now to get books from your library. Only books from the main library will be available now. Junior Library books will not be available
How to Get Books
1. Search the library catalogue for the book(s) you would like to issue. You can type any keyword of the book (title, author, subject) you are looking for. No need to type the complete title or author name. You can search by part of the title or author.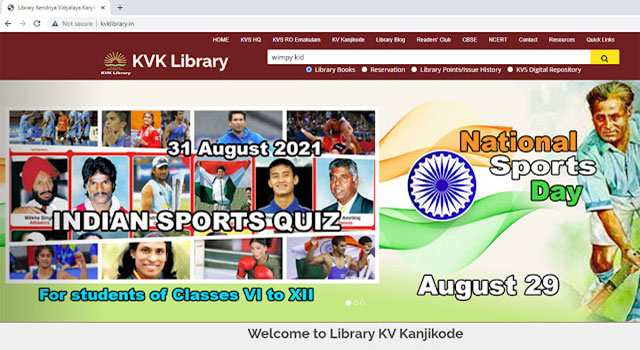 2. You can see the status of the books in the search results. Books which are issued will not be available for some time as the returned books will be issued only after a cooling period (14 days). If the status is available, click on the Issue Book icon.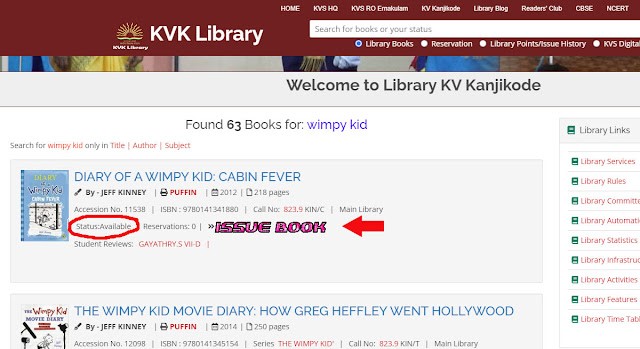 3. Now enter your library card number correctly in the text box and click on Hold the book button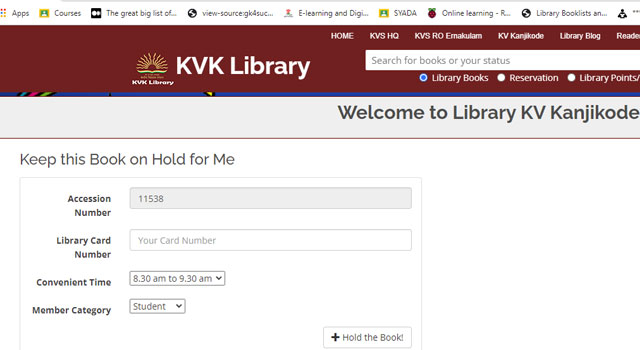 If you have given your library card number correctly and if your status is active, you will get a confirmation and the book will be put on hold for you. If it shows an error message, contact the librarian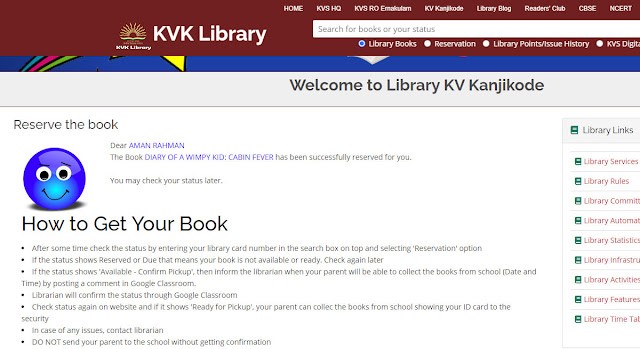 Getting a confirmation message only means the librarian will be notified about your request. Now the librarian will confirm the status of the book. It may take up to one day depending the time of your reservation
3. Check your reservation status after some time by visiting the library website and entering your library card number in the search box. Remember to select the reservation button below.

Your reservation status will be displayed now.
If the status shows Due, the librarian has not yet seen your request. Please check later.
If the book is currently reserved or issued to another member, that information will be shown as the status. Your reservation will be cancelled as the books returned by a member will only be issued to another member after a cooling period of minimum 14 days.
If the status shows Available - Confirm Pickup Date, click on the button to and select a date and time convenient for collecting the books from the library. If you are doing this after 2:00 pm, please select the next day or the day after that.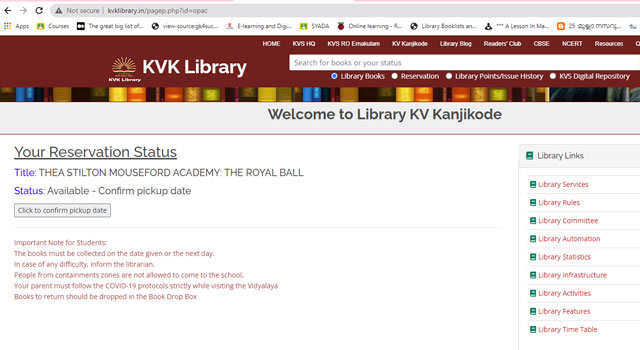 4. Once you have provided a convenient date, the librarian will confirm the date for pickup. Check your reservation status again and if the status shows Ready for Pickup, your parent can come and collect the book from the security desk. The books can be collected till 7.00 pm from the security desk on all days.
Important Instructions
Your parent should strictly adhere to Covid 19 protocols while visiting the school.
Students will not be allowed to come to the school to collect the books.
Please visit the school only after getting confirmation from the librarian to avoid any inconvenience
Your parent should carry your student ID card or library card. In case you don't have an ID card or library card, contact the librarian
A student can put on hold up to 4 books at a time
You may reserve books a few days in advance if you would like to get new books while returning the old ones.
Please take the necessary precautions while handling the books and visiting the school
The books to be returned are to be dropped in the Book Dropbox kept at the entrance. DO NOT hand over the books to the security or any other staff member
In case of any difficulty, feel free to contact the librarian
Our priority will be the safety of our members, hence the facility will be extended by strictly following the Covid Protocol